Chairman Message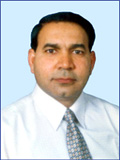 It is a matter of honor for me and other members of Managing Committee of this trust for establishing this trust with a noble cause – to serve the humanity which means that the scope of service of this trust is not limited to any single country, even we have the passion and commitment to work for the whole humanity that means, the trust's programmatic area is worldwide.

UHRCP is a non-communal, non-commercial, and non-ethnic welfare trust that is serving keeping the mandate in view, think globally yet act locally. So we are continuously taking the steps to move forward steadily by offering our services to the less privileged segment of the society, in areas of, education, health, skills development, legal support, legal and financial support to those who are languishing and decaying their lives in the jails of this metropolis initially and later we would extend our services to other parts of our country and abroad as well, financial support for widows, so on and so forth.
With the passage of time, not we would establish its branches all over the country even we look forward to establish its branches in other Asian, African, Gulf, and Western countries either.
The objectives of our trust are not limited to any single aim, as usually being focused by many NGOs and Trusts, yet contrarily, we have assumed the responsibility to prove a pre-cursor of all those, who are engaged to serve the humanity in the field of welfare service, by providing diversified services to its beneficiaries.
Although we are providing our every possible support, yet we would like to request all other kind hearted donors of this metropolis, to extend their favorable support assistance in the shape of donation and Zakat during the holy month of Ramzan, for which not only the management and members of our trust, even the beneficiaries of this trust would also be grateful to your honor, for this act of kindness.
N. A Tahir Bhatti
Chairman